Of all cookies, I would have to say that oatmeal cookies are my favorite. But not with raisins. Oatmeal cookies with dark chocolate, or with walnuts, or with slow cooked fruits…that's pretty much nearing the perfect cookie. I love the extra crunch and textured bites of a cookie filled with old-fashioned oats. And I can convince myself that the cookies are healthy…they have oats in them, right?
The best thing about oatmeal cookies is that they are so versatile. I've baked them with pears and dark chocolate, shredded zucchini and cinnamon, walnuts and cranberries, apricots. Pretty much anything you like can be added to the batter. Be creative!
I made this particular batch of cookies for tomorrow's breakfast. And if we don't eat them all, the cookies can double as an afternoon snack. We are taking a field trip to Adrian College for one of my education classes, and for those of us carpooling together, we need some sort of snack for the one hour drive at 7:00 am. It's our nutritious breakfast on the go-oats in cookie form! If you are an extreme chocolate fan, I highly suggest varying the size of the chocolate you add to the batter; I mixed chocolate chips with actual bars of chocolate that I broke into large chunks. I may have put a tad too much chocolate in the batter, but really, how many people object to too much chocolate?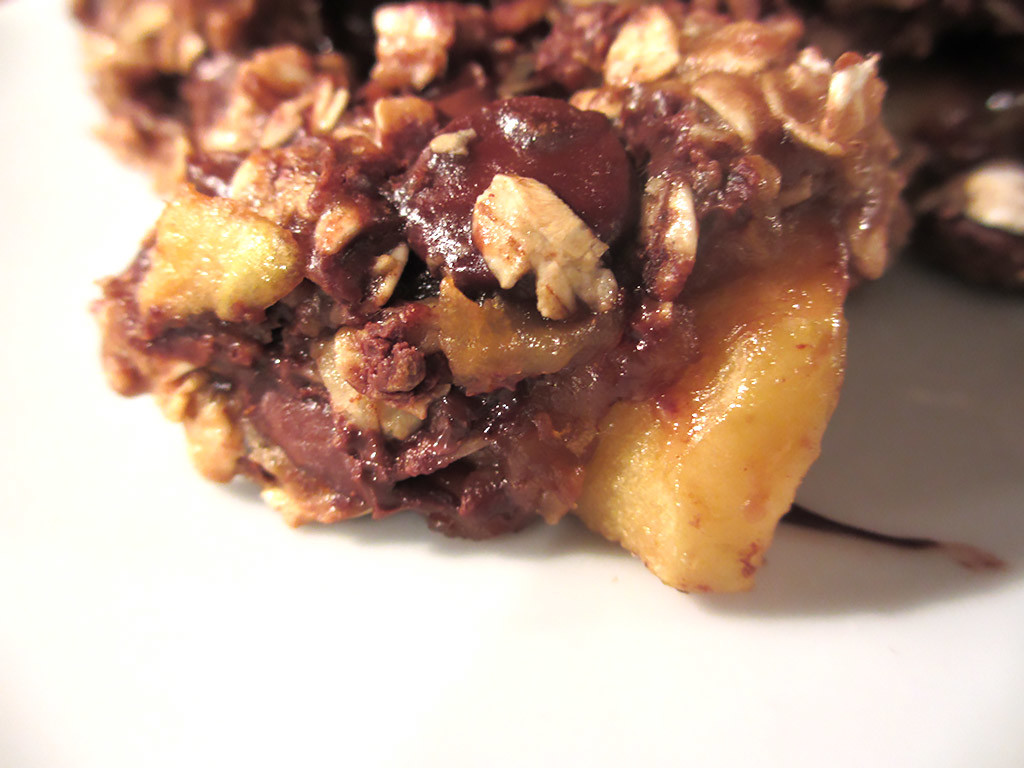 Ingredients
4 medium or 2 large apples, cubed
2 eggs
3 cups old fashioned oats
1 1/2 cups flour
3/4 cup brown sugar
1 tsp baking power
1 tbsp vanilla extract
2 tsp cinnamon
1/4 tsp salt
1/2 stick butter
2 cups dark chocolate chips or chunks
1/2 cup chopped walnuts (optional)
For the apples
2 tbsp butter
1 tbsp brown sugar (for the apples)
1 tsp cinnamon
a pinch of salt
Directions
Preheat the oven to 375 degrees.
Chop and peel the apples. In a frying pan, add the butter and chopped apples. Let the apples cook until they soften and become tender. Add the brown sugar and cinnamon. Let the apples cook for a few minutes, and then remove from heat. Set aside.
In a small bowl, mix the flour, cinnamon, salt, and baking powder.
In a medium bowl, cream 1/2 stick of butter with brown sugar (if you're looking to make healthier cookies, omit this 1/2 stick of butter. They come out just fine without it!). Add the vanilla and eggs. Mix. Stir in the cooked apples. (If the apples are still warm, you can wait until they cool. Or, you can add the warm apples to the batter, which will melt some of the chocolate chips and just add a chocolate-y oomph!)
Slowly incorporate the flour mixture into the wet mixture. Add the oats, chocolate chips, and walnuts. Mix until all the ingredients are well incorporated.
Scoop the dough with a tablespoon and drop it onto a baking sheet or parchment paper. Since the dough does not have a lot of  butter, you  might want to flatten the cookie dough balls a bit; they will not expand.
Bake the cookies for 8-10 minutes, or until golden brown.