As the weather gets colder, I find myself craving dishes filled with satisfying spices and bold flavors. There's just something so warming and comforting about spices. A bowl of ka'ree (curry), a plate of biryani. . .
For dinner last night, I decided to try my hand at Chana Masala, an Indian dish featuring chickpeas and vibrant spices. I have been wanting to make this dish for quite some time; I'm a chickpea fan, but I usually eat them in the form of hummus, one of my all time spreads. (Hummus with chicken, hummus with salad, hummus in sandwich, hummus with veggies…it's delicious!)  Despite my love of hummus, I thought it was time to start branching out and try eating chickpeas whole, rather than crushed.
This recipes was much easier to make than I expected, and it hardly took any time.  But, I did take the easier way out using canned chickpeas and canned tomatoes instead of leaving the chickpeas to soak overnight.
A bowl of warm Chana Masala is a great way to conclude a long day!
Ingredients
1 can chickpeas
1 can diced tomatoes
1 small onion, diced
2 teaspoons cumin
2 teaspoons coriander
2 teaspoons turmeric
2 teaspoons paprika
2 teaspoons cayenne or hot pepper
2 teaspoons garam masala
1 teaspoon minced garlic or 1-2 cloves garlic
2 tablespoons lemon
salt and pepper to taste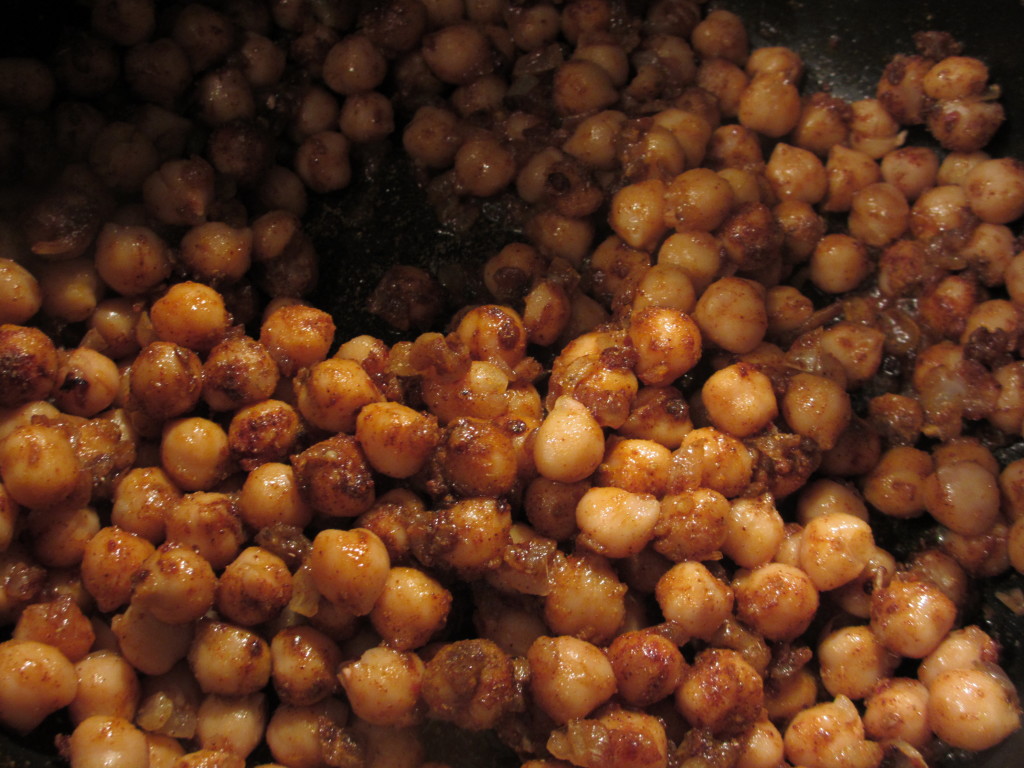 Directions
Drain the liquid from the chickpeas, rinse, and set aside.
Heat 1 tablespoon of oil in a pot. Add the diced onion and cook for about 5 minutes. Add the minced or fresh garlic and cook for another a minute or two.
Add the chickpeas to the pot. Add the spices and stir. Let the chickpeas and spices cook together for about 5 minutes.
Add the diced tomatoes and mix. Let the chickpeas simmer with the tomatoes for about 5 minutes. Taste and add whatever you think it's missing! Like a spicy kick? Add more heat. Love a citrus twist? Add more lemon. Make it your own!