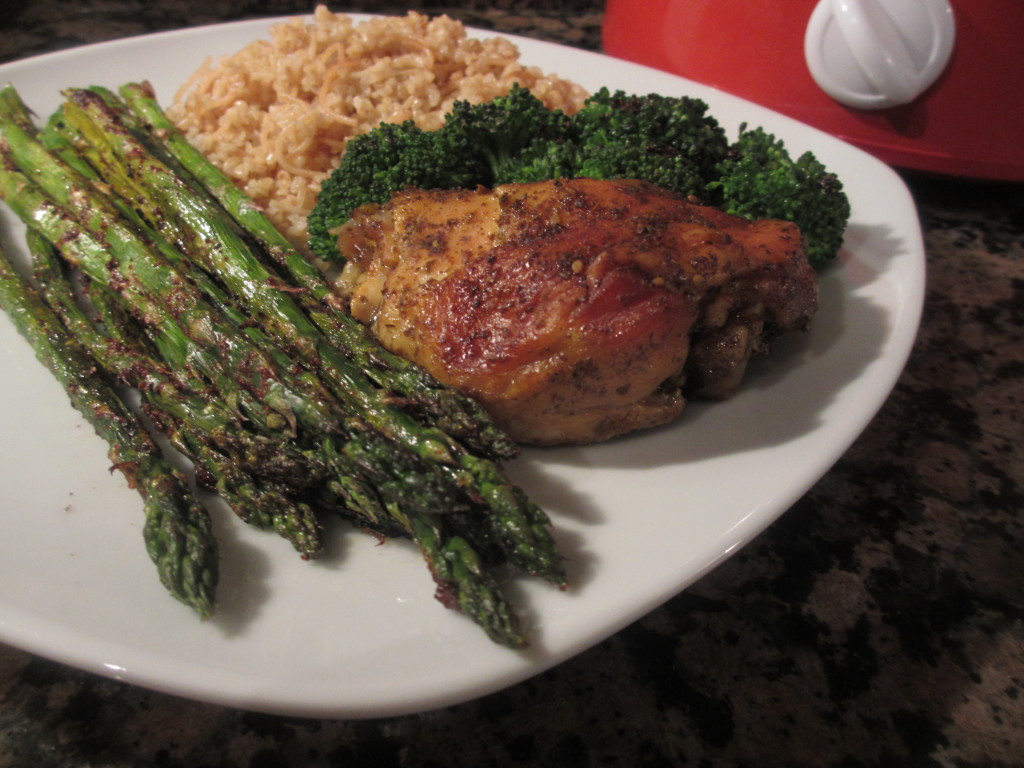 There is possibly nothing better than coming home to the smell of slow-cooked chicken in the crockpot. And the best part? After a long day, it means that there is minimal, or no, additional cooking required (it all depends on your meal accompaniments!). Over the weekend, I had defrosted some chicken thighs that I had in the freezer. I was attempting to plan or at least prep some meals for the week. With the semester drawing to a close, it can be so difficult to find time to cook, especially when I don't get back from classes or work until the late evening. I come home and I've only got one word on the brain: food. Where is food?! And as much as I love cooking, there are just those days when I am so hungry that I dive into my cabinet, eating nearly everything in sight because I just can't be bothered to prepare a proper meal.
In an attempt to avoid such snack attacks, I marinated the chicken and left it in the fridge for a busy day. Well, it didn't take long for one of those to come along. Before heading to work, I tossed the marinated chicken thighs in the crockpot, set it to low, and left it cooking for almost six hours. Six hours was longer than the chicken needed (five or even four and a half would have been perfect) but my crockpot doesn't have a timer. In any case, the chicken was literally falling off the bone. Yum! I decided to make some asparagus, broccoli, and bulgur to accompany the chicken. Perfect meal. Healthy, quick, and delicious. You definitely won't be digging into your cabinets for snacks after this meal!
Servings: 2-3 people
Ingredients
3 chicken thighs, fat trimmed
1 tbsp za'atar
1 tsp turmeric
1 tsp paprika
1 tsp salt
1/2 tsp black pepper
1 lemon, squeezed
asparagus, ends trimmed
1 tbsp olive oil
2 tsp sumac
Directions
Season the chicken thighs with za'atar, turmeric, paprika, salt, black pepper, and lemon. Put the chicken in the crockpot and set to low for 4-5 hours. Alternatively, you could cook the chicken in the oven for about 40 minutes at 375 F, or until the juices run clear.
While the chicken is cooking, prepare the bulgur (click here for recipe).
Preheat the oven to 400 degrees. Trim the ends of the asparagus. Place the asparagus in a flat baking tray, drizzle with olive oil, and sprinkle with sumac. Cook the asparagus for about 15 minutes or until tender.
Plate the chicken, bulgur, and asparagus. Enjoy!