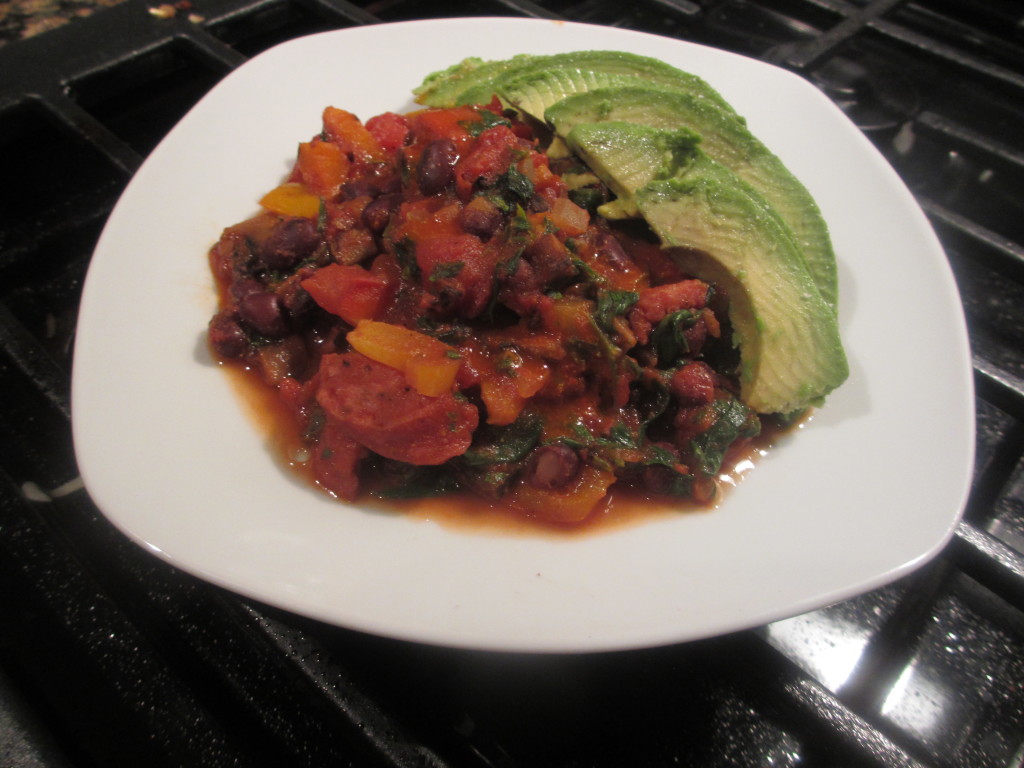 There are just those days when you have no idea what you want to eat, or what you want to cook. And then there is just the feeling of laziness. That lurking monster. He's been following me around today. And then you combine laziness with not knowing what to eat, and somehow…delicious dinner still gets cooked. It's amazing. I wish some of my school work would get done that way. With magic.
This past week has been crazy. It was the last full week of classes, and I had two projects due this past Friday. I stayed up so late on Thursday, I slept through my alarm on Friday morning and almost missed my presentation. Almost being the key word. But all is well, and I now have two classes checked off my list. Yay!
Right, back to the important stuff. Food. After the chaos of the week, I decided to relax a bit this weekend. And today, that translated into concocting two delicious meals. The first was eggs with spinach, mushrooms, and tomatoes. The second was a delicious black bean and roasted tomato combo. I sautéed veggies that were in desperate need of cooking, added some black beans, some diced tomatoes, some spices, and voila! A meal was made. A delicious, warm, chili-like dish. Eat it with rice, with grains, with chips, or with a fork. My only regrets? I wish I had serrano or jalapeno peppers that I could have added.  Enjoy!
Ingredients
1 15 oz. can of black beans
1 15 oz. can of roasted diced tomatoes
1/2 cup chopped sausage/chorizo
1/2 yellow bell pepper, chopped
1/2 orange bell pepper, chopped
1 small onion, chopped
1 cup chopped mushrooms
1 cup chopped spinach
1/2 cup chopped parsley
1/2 lemon, squeezed
2 tsp cumin
2 tsp coriander
1 tsp cayenne pepper
salt and pepper to taste
Directions
Heat about one tablespoon of oil in a medium pan.
Add the chopped onions and cook until tender, or for about five minutes. Add colored peppers and mushrooms, and cook until tender. Add the black beans, diced tomatoes, lemon, spices, salt and pepper.
Let everything simmer for about 5-10 minutes. Taste, and add anything that you see fit…more cayenne pepper, more lemon, more cumin. Bon appétit!