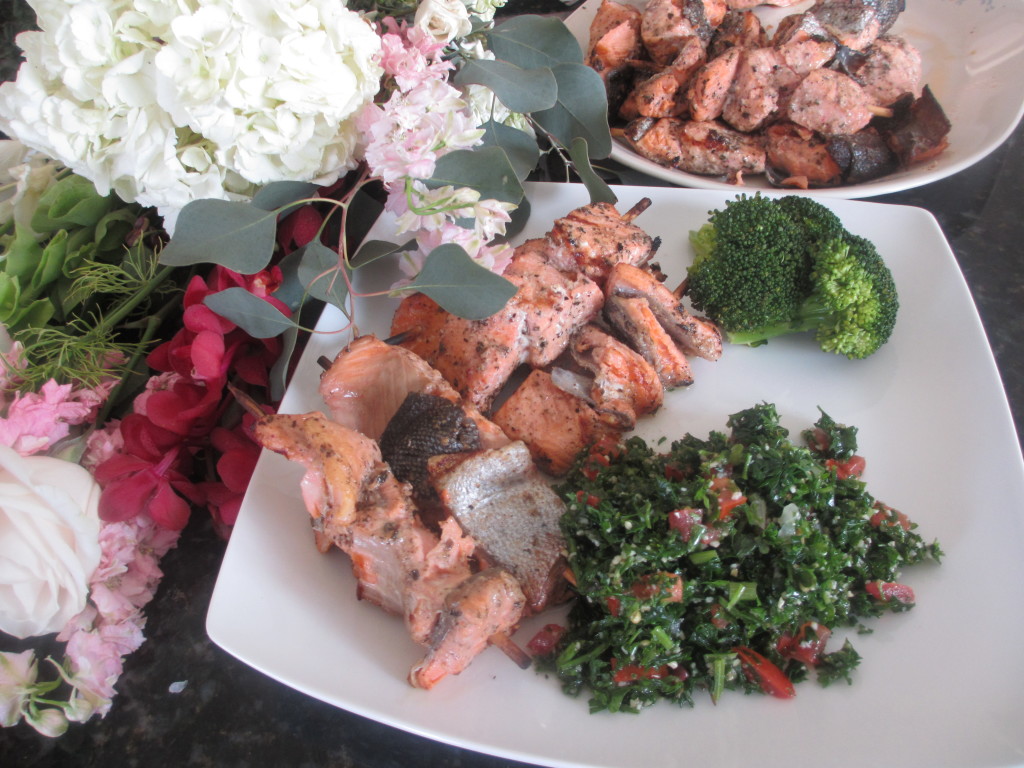 This past weekend was full of family festivities. One of my cousins was in town from Seattle…for her wedding! As you can imagine, the weekend was full of fun, laughter, dancing, and many spontaneous rendez-vous, especially among the gang of older cousins. Congrats Fran and George!
Well, I'm finally back home for the summer, which means I should hopefully have more time to cook 🙂 During my last week in Ann Arbor, I was trying to clean out my fridge (in actuality, already almost empty because I didn't do much grocery shopping during finals). I literally had nothing in the fridge accept olives, mustard, cholula, and soy sauce. Quite the meal, right?
One of the perks of being at home is that I now have access to a grill. Perfect for spring and summer! It had been a while since I had eaten fish, so I decided to make salmon kabobs. I attempted making them for the first time last summer. My aunt and uncle were over for dinner, and they absolutely loved them. I figured, why not make them again? Salmon kabobs are surprisingly easy to to make, and take little time to cook. Salmon is also such a versatile fish, you can put almost any seasoning on it.
I served the salmon kabobs with bulgur and tabouli, a chopped parsley salad. A perfect summer meal!
Ingredients
2.5 lbs salmon
4 tbs lemon
4 tbs olive oil
2 tbs dijon mustard
2 tsp sumac
2 tsp dried basil
1 tsp salt
1 tsp black pepper
about twenty, 6″ skewers
see bulgur recipe (1 cup bulgur, 1 cup stock, 1 cup vermicelli)
Directions
In a small bowl, mix the mustard, lemon, olive oil, sumac, dried basil, salt, and pepper.
Cut the salmon filet(s) into cubes, roughly one inch. Places the salmon cubes into a bowl, and pour the dressing on top. Gently toss the salmon.
On each skewer, place about 3-4 salmon cubes. If the salmon still has the skin on it, try to skewer the cubes so that you don't have to pierce the skin (the skin can be a bit tough!) For thinner salmon pieces, fold the salmon chunk in half and place it on the skewer.
Heat the grill to high. Each salmon skewer needs only about 5 minutes to cook.
Serve with bulgur, a salad, or other veggies, and enjoy!