When I was younger, my brother and I spent quite a bit of time at my grandparents' house. Jidou and Grama both loved to cook, and they were good at it. Among the many things that I remember eating at their house, meftool, was one of them. The dish is made of slim Chinese eggplants that are stuffed with spices, meat, and parsley, which are then baked in a tomato sauce. In Arabic, meftool, means twisted. As you stuff the slim Chinese eggplants with meat, they curl up, almost resembling the letter C.
My younger self absolutely hated eggplants. I thought the dish looked cool, but I never wanted to eat it. I preferred the almost identical dish, mehshi, which involves stuffing zucchini, instead of eggplant. To be honest, I still prefer zucchini to eggplant, but I've learned to enjoy dishes like meftool. 
One of the goals in starting this blog was to learn the traditional recipes that my grandparents cooked and my parents grew up eating. Some of the recipes are easy, and require little preparation. But some recipes, like this one, are more time consuming. It's these recipes that are harder to learn; they take time and patience. My mom and I spent an evening making this dish. I watched her practiced hands mix the meat, skillfully cut and stuff the vegetables, and carefully place all the vegetables in  the baking pan.
Ingredients
2 Chinese eggplants
2 skinny and straight zucchinis
Tomatoes or peppers for stuffing (optional)
1 lb coarse beef
2 tbsp tomato paste
2 tbsp baharat (all spice)
1/2 tsp salt
1/2 tsp black pepper
1 onion, finely chopped
1/2 cup finely chopped parsley
—
for the sauce
1 can tomato paste (6 oz)
1/2 tsp baharat
1 tbsp lemon
1.5 cups water
salt and pepper to taste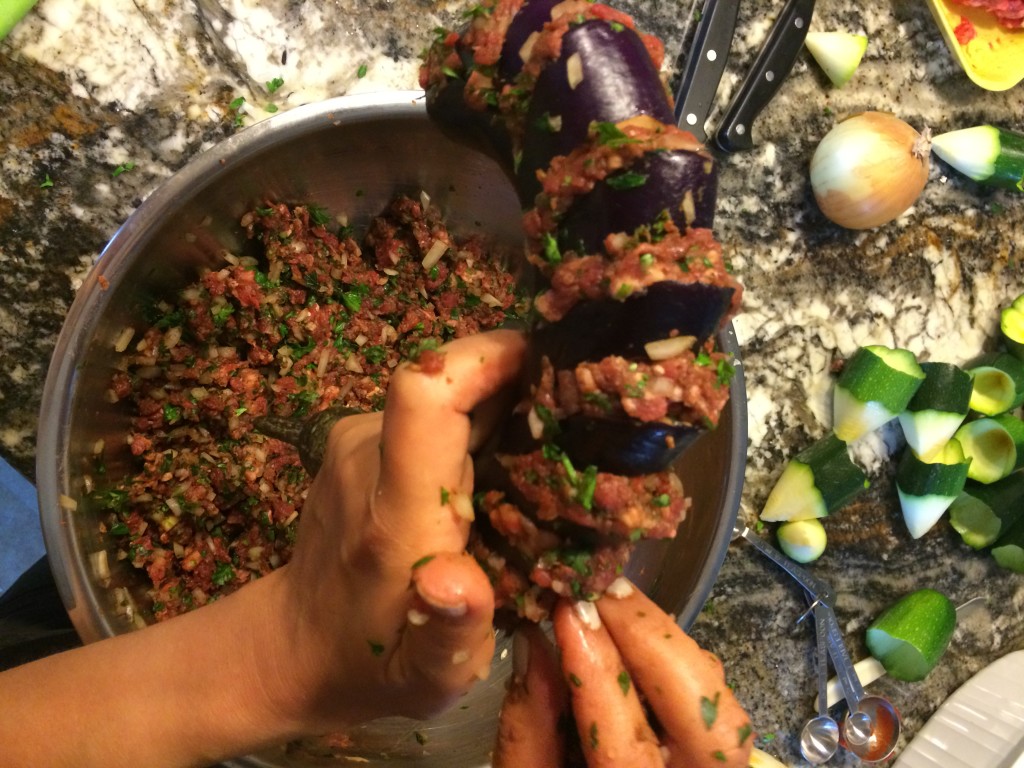 Instructions
Slice the eggplants and zucchini for stuffing (see photos and video above).

Make sure to use a sharp paring knife! Take the eggplant in the palm of your hand, holding it vertically in front of you. Maybe a diagonal slit in the eggplant, a little more than half its width. Continue to make slits, about a 1/2 inch apartment, for the full length of the eggplant. Be careful not to make the slits too deep, or the eggplant will tear when you stuff it with meat.
To slice the zucchini, check out this video (it's also embedded on the page, above the directions.) It's a 1 min video clip of my mom expertly slicing a zucchini for stuffing. It's easier to watch, than to explain.
Finely chop an onion. Carefully wash and finely chop 1/2 a bundle of parsley.
In a medium bowl, mix 1 pound coarse ground beef, 1 onion finely chopped, 1/2 cup finely chopped parsley, 2 tablespoons tomato paste, 2 tablespoons baharat, and 1/2 teaspoon salt.
Stuff the sliced eggplants and zucchini with the meat mixture, as well as any other veggies that you want to include (tomatoes, peppers…etc.)
Place all of the stuffed vegetables in a deep casserole dish, and set aside.
To make the sauce, add a bit of oil to a medium saucepan. Turn the heat to medium-high to brown the tomato paste, for about 5 minutes (browning the tomato paste adds a nice roasted flavor). Add water, lemon, salt, pepper, and baharat. Taste and add more spices to suit your taste.
Pour the sauce over the stuffed vegetables. Bake the dish for about an hour at 375 F.