Like all other foods that involved eggplant, as a child, I did not like baba ghanouj. I preferred its cousin, hommus, which I devoured without complaint. Well, as my taste buds matured, I decided to give baba ganouj a second chance. I.love.it. Even my brother loves it, and he doesn't even eat hommus. 
Baba ghanouj is commonly eaten as an appetizer, or part of the mezze, which is central to Middle Eastern cuisine. Mezze or mezza, which means snack or taste, refers to delicious small plates that are eaten before the main course. These plates include salads, dips, olives, cheeses, meats, and yogurt. Typical dishes vary by country and region in the Middle East. In my family, we often eat hommus, tabouli, fattoush, and baba ghanouj with pita bread and veggies.  
The best accompaniment to mezze is fresh baked bread. At home, we often eat baba ghanouj or hommus with pita or bread called sumoon, which we pick up from the local stores. (If you live in the Metro Detroit area, our go-to stores are Ishtar or Babylon.) When I'm trying to be healthy, I'll eat the tahini based dips with carrots, cucumbers or celery. But, I'll be honest, hommus and baba ghanouj taste better with bread. My favorite summer meal is a Middle Eastern salad paired with hommus or baba ghanouj, and a basket of fresh baked bread.  
My grandmother used to talk about bread that was made in a ta-noora (not tandoor), or clay oven. Women used to stick the dough to the sides of the oven, which, due to their extreme heat, quickly cooked the bread. My dad, who grew up in Iraq, told me that these ovens were fueled with cow manure. In this photo from Getty Images, you can see an Iraqi man sculpting clay ovens. If you want to see a modern clay oven in action, this video from Samira's kitchen demonstrates how to make bread using a ta-noora (bread making starts at about 3 min and ends at 10 min).
Enjoy this recipe for baba ghanouj with bread, veggies, salads or any other way you like!
Ingredients
2 large eggplants
1/2 cup tahini (sesame butter / paste)
3 tbsp lemon juice
1 tsp salt
1 tbsp olive oil
4 cloves garlic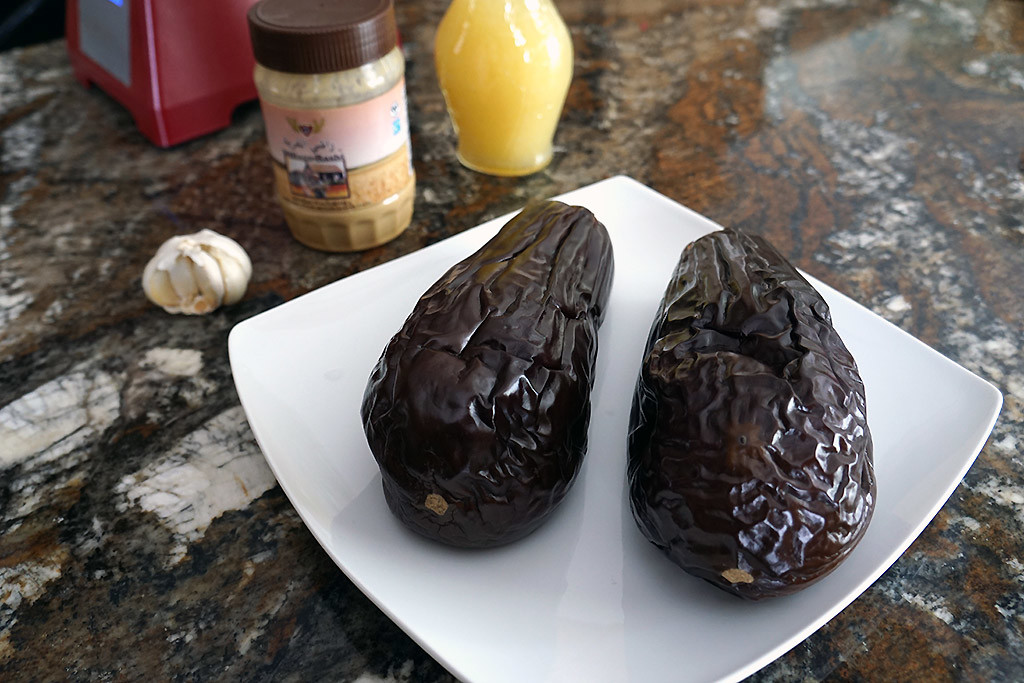 Directions
Heat the oven to 450 degrees F.
Cut a few small slits throughout the eggplant. Cook the eggplants in the oven for about 30 minutes or until tender. (During the summer, I recommend roasting the eggplants on the grill. Adds a wonderful charred flavor that the oven just doesn't have).
When the eggplants are done cooking, peel the skin. Using a blender, mix the eggplant with tahini, lemon juice, salt, olive oil and garlic. If you prefer a chunkier baba ganouj, mash the mixture with a fork instead of a blender.