This past Sunday, Michigan graced us with a beautiful, warm day. The temperature was almost 60 degrees fahrenheit, and the sun shone brilliantly all day. I spent about an hour walking outside to bask in the sunshine. It was an adventurous walk, as I dodged puddles swelling with water from melting snow, and sidewalks still buried under heavy wet snow. Just a few days earlier, it had snowed nearly 8 inches. Ah, pure Michigan. Snow one day. Sunshine and warmth the next. Aside from an outdoor walk, the warm weather prompted my family to another activity: grilling. Pomegranate salmon kabobs.
At home, we usually take advantage of Sundays to cook at least a few meals for the week. For our grilling extravaganza, we made beef kabob and these salmon kabobs. Some family friends stopped by for evening tea. They had already eaten dinner, but the salmon kabobs looked so tempting that they tried one piece. And then ate a few more.
For these skewers, you'll notice that I did not include veggies with the salmon. I know that veggies with meat, chicken, or salmon look almost too delicious too eat, but most vegetables take a lot longer to cook on the grill than salmon. If you want to grill vegetables, I would put them on separate skewers, instead of mixed with salmon.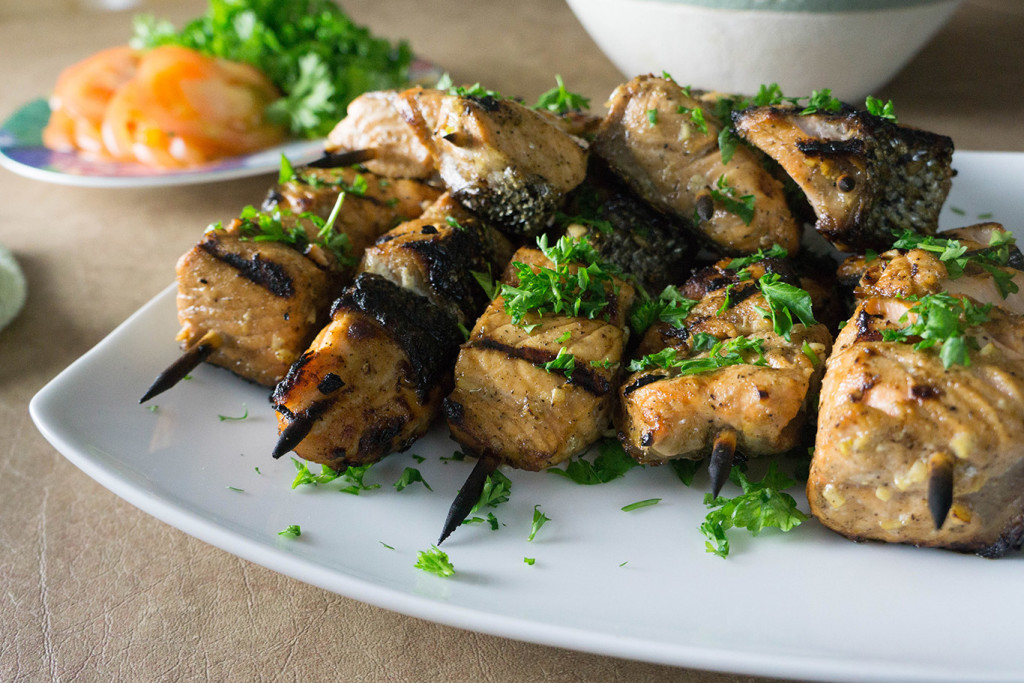 Ingredients
3 tablespoons olive oil
3 tablespoons lemon
1 tablespoon pomegranate molasses
1 teaspoon salt
1 teaspoon black pepper
parsley, for garnish
Directions
Cut the salmon filet(s) into cubes, roughly one inch. Place the salmon cubes into a bowl. If the salmon has skin on it, I recommend leaving it on – the skin turns crisp and delicious when grilled!
Add lemon, olive oil, salt, pepper, and pomegranate molasses
to the salmon. Gently mix everything together.
Depending on the size of wooden skewers that you're using, you'll be able to place about 2 to 4 salmon cubes on each skewer. For grilling consistency, try to place similar sized pieces on each skewer. If the salmon still has the skin on it, try to skewer the cubes so that you don't have to pierce the skin (it can be a bit tough to pierce!)
Heat the grill to high. Each salmon skewer needs only about 5 to 10 minutes to cook. When finished, serve salmon salad, grains, veggies, or anything you like.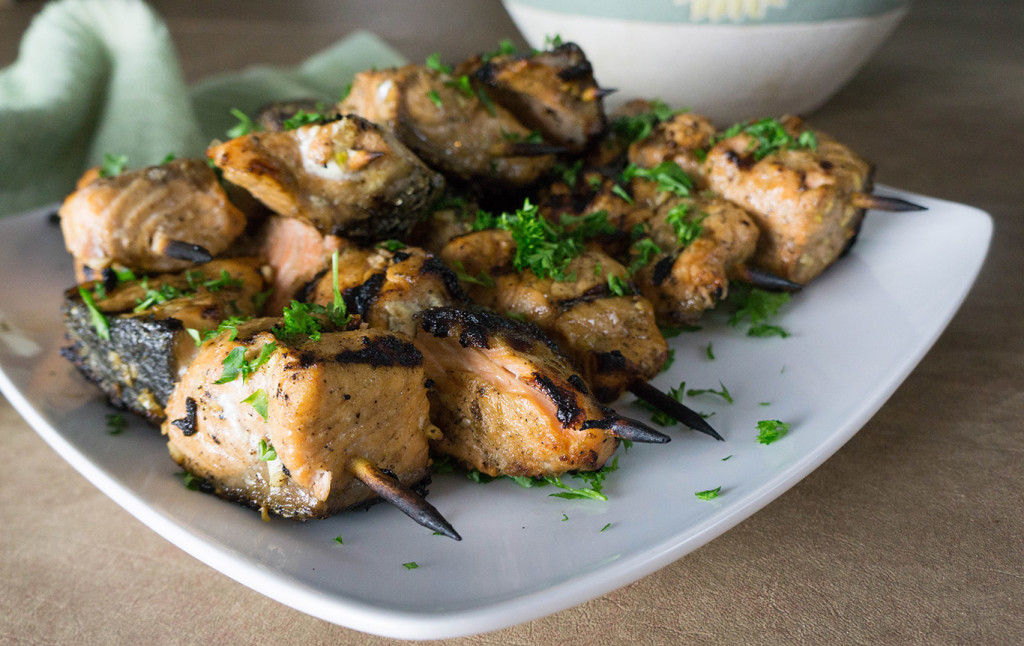 If you're curious, here is the brand of pomegranate molasses that I used. You can click this link
, which will take you to Amazon.