Boeuf Bourguignon is a classic French beef stew that involves slow cooking meat in red wine, beef stock, and topping it with a garnish of seared bacon, mushrooms, and pearl onions. The spelling of Bourguignon might scare some of you into simply calling this delightful dish a beef stew, but it's easier to pronounce than you might think. Try saying it: "boor-geen-yon." Now add a French sounding accent. Très Bien!
When I mentioned to a few people that I was cooking boeuf bourguignon, they recognized the dish from the film Julie and Julia. The dish is featured in the film, as one of the dishes she makes while cooking her way through Julia Child's cookbook. But my memories of this dish go back to an evening when my brother and I decided to create an elegant anniversary dinner for our parents.
My brother and I love to cook. It's a hobby and passion that started as kids. When we were younger, more than once we convinced our parents to let us make eggs for breakfast. Other days, we would offer to make dinner. One of our specialities was chicken parmesan, involving frozen chicken tenders, tomato sauce from a jar, and shredded cheese. And, on yet another occasion, we make a lady bug cake, with fondant, for my mom's birthday. I know she loved and appreciated the cake, despite the mess of red fondant crumbles we left all over the kitchen floor.
Well, for this particular anniversary, my brother and I wanted to do something special for our parents.  No eggs. No chicken parmesan. We had moved beyond our childhood staples and wanted to master classic dishes. I don't remember our exact ages, but I think I was 20, and my brother was 18. We wanted to replicate a dinner that my parents would find at a top restaurant, and we were going to make everything from scratch.
Our menu for the evening included caesar salad, with a homemade caesar dressing, pesto linguine with homemade pest, seared scallops, boeuf bourguignon, and pistachio kulfi for dessert. We set the dining room table with fancy plates and silverware, lit a few candles, and played instrumental music in the background. While my parents chatted and danced in the room nearby, my brother and I furiously cooked in the kitchen, greatly underestimating how long it would take to make all the dishes. Every 10 minutes or so, my mom would come into the kitchen, wanting to help, but also trying to convince us to join her and my dad for dinner. We refused, claiming the kitchen as our domain for the evening. Most of the dishes were a success. Unfortunately, boeuf bourguignon was not one of them. At the time, we didn't let the dish cook long enough, or reduce the sauce. The meat was tough and the taste of red wine was overpowering.
Well, after about 6 years, I decided to tackle the recipe again. This time, it was a success! It was so delicious, I made it twice over the course of two weeks. I followed Laura Calder's recipe, from the Cooking Channel. To cook the beef, I used a Food Network Enamel Cast-Iron Dutch Oven. I believe the one that I have is 5 or 5.5 quarts. A few years ago, the dutch oven was on sale at Kohl's, and we had coupons, so it was quite a deal.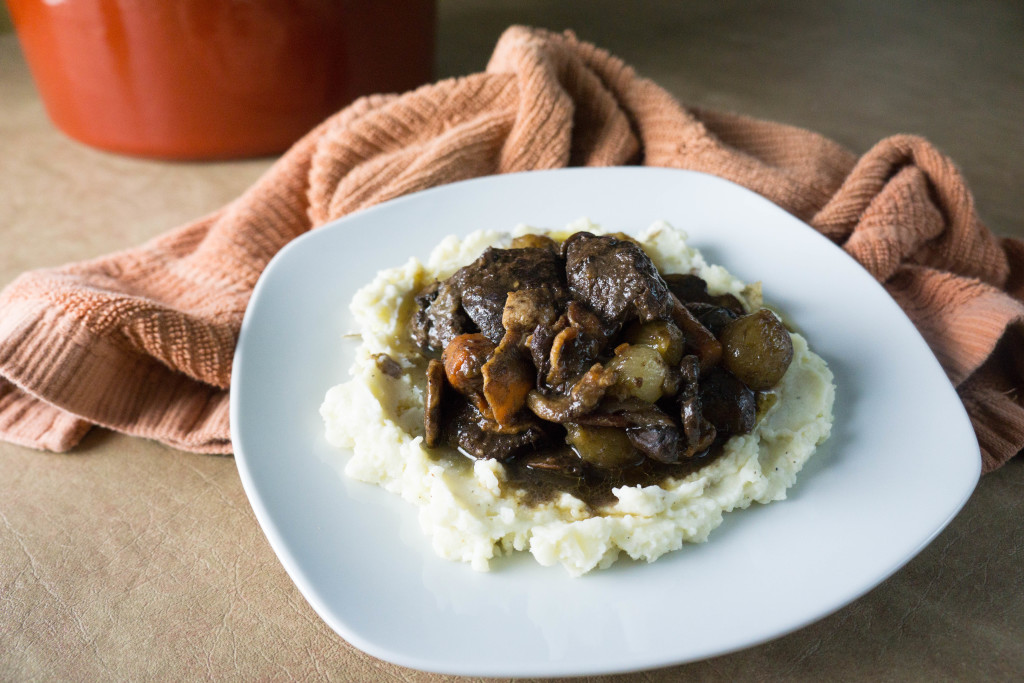 INGREDIENTS
4 lbs boneless stew beef, such as chuck or sirloin tip
2 tbsp olive oil
2 carrots, peeled and quartered
2 onions, peeled and quartered
4 cloves garlic, peeled and crushed
1/4 cup all-purpose flour
1 (750ml) bottle dry red wine
4 cups beef stock
1 bouquet garni (dried or fresh bay leaves and thyme)
— GARNISH —
6 to 8 slices bacon, cut into pieces
40 pearl onions, fresh or frozen
16 ounces mushrooms
1 tbsp olive oil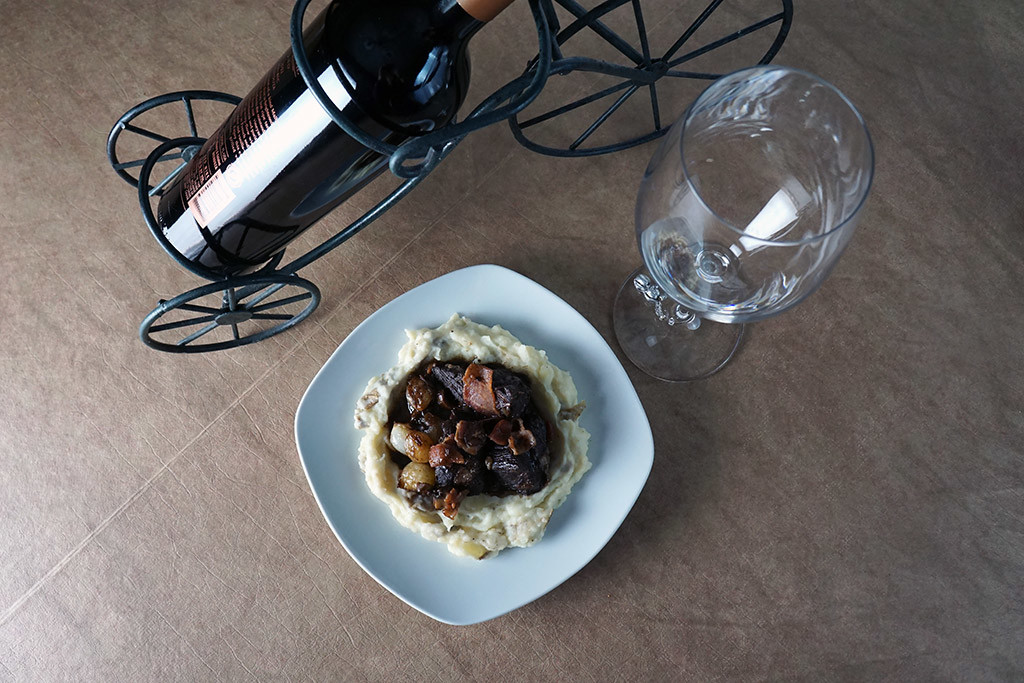 DIRECTIONS
Preheat the oven to 325 degrees F.
Prepare a bouquet garni, a small pouch filled with dried or fresh bay leaves, thyme, or your favorite herbs. I used a piece of cheese cloth with cooking twine to create the bouquet. 
Chop the beef into roughly 1 inch chunks. If you bought the meat chopped, remove the meat from the refrigerator and bring to room temperature, about 20 minutes.
Heat the oil in a large casserole or cast iron dutch oven
. Depending on the size of your pot, you'll need to cook the meat in 2 to 3 batches, removing as you go. Make sure that each piece of meat is browned on all sides. If the meat is sticking to the pot while it sears, add some olive oil to each batch.
When the meat is done, cook the carrots and onions in the same pot, until tender and slightly golden. Add the crushed garlic and cook for about a minute. Add the flour, stirring for about two minutes. Pour the wine and stock in the pot. Return the meat to the pot, and cover with a lid.
Place the pot in the oven, and cook the meat for about 2 to 2 1/2 hours.
While the meat cooks, prepare the garnish. In a pan, cook the bacon until browned. (I just used the entire 16 oz package of bacon that I had bought. Good thing too – I kept eating the bacon while cooking!) Remove.
Add the pearl onions and mushrooms to the bacon fat. Cook until browned. (If you're using fresh pearl onions, peeling them can be a pain. To make the process a bit easer, blanche the onions in boiling water for about a minute, and then place them in ice cold water before peeling. Check out this video for more details. For this batch of boeuf bourguignon, I used frozen pearl onions to save time.)
When the meat is done cooking, remove it from the pot. Strain the stock, or remove all vegetables (carrots and onions) with a slotted spoon. Set aside. Boil the stock until thick. Return the meat to the pot, and add the garnish. Mix. Cover and simmer for about 10 minutes.